Amore Aronia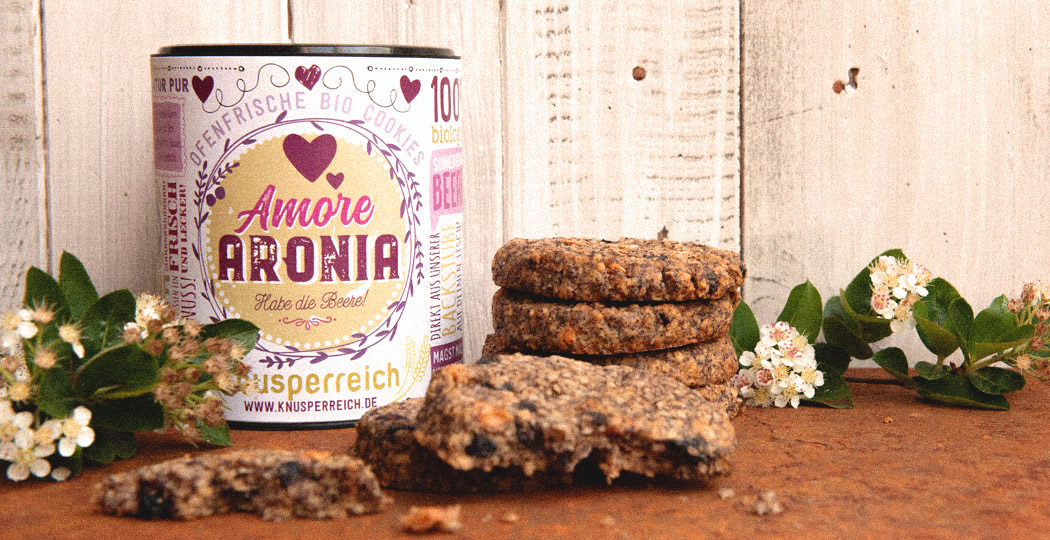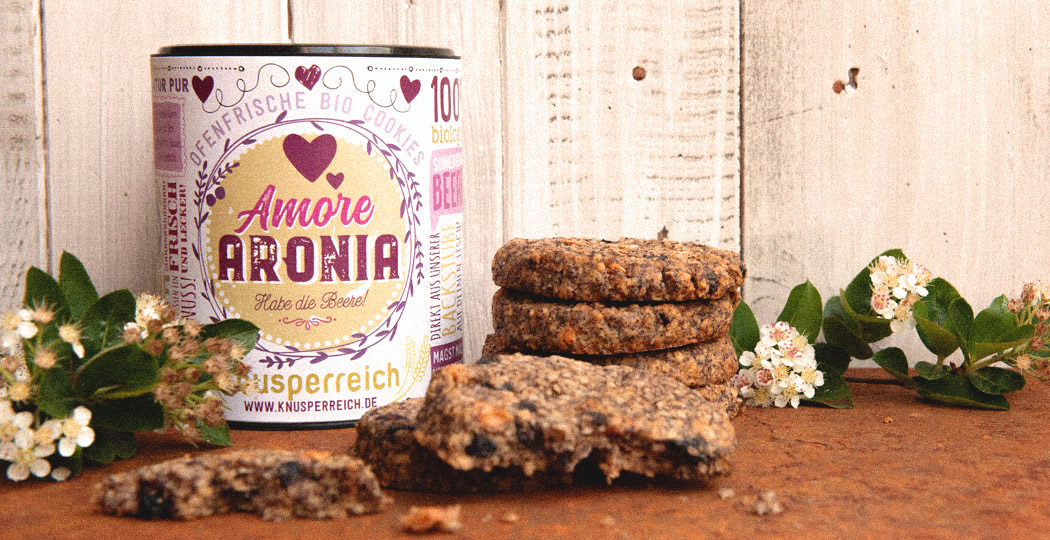 We at Knusperreich immediately fell in love with this versatile superfood miracle berry - even though it's officially called the "black chokeberry," you won't be able to resist gulping down a whole lot of these addictive vitamin bombs. With a name like that, is it an enormous jaw-breaking fruit? No way! It's only slightly larger than a currant and its juice is a deep, dark red. It's beautiful flowers look very similar to those of an apple, and just like the apple it belongs to the rose family. Incidentally, it packs an amazing vitamin punch and is also a respected medicinal plant. A generous portion of poppy seeds also gives the right crunch to this great cookie.
can of 6
Cookies
à 50 g
(total weight 300 g, € 4.87 / 100 g)
See the list of ingredients
Ingredients in this product:
oats*
,
butter*
,
whole egg*
, raw cane sugar*, dried aronia berries*, poppy seed*,
almonds*
, dried blueberries* (sweetened with apple syrup, separating agent: sunflower kernels oil), honey*, apple juice*, dried apples*, salt, bourbon vanilla*.
*certified organic
See allergens
Eggs, Milk, Almonds (Nuts), Oats (Gluten)
Not suitable for allergy sufferers.
See nutrition facts
Nutrition facts per 100 g (average)
Calories 403.0 kcal / 1,687.4 kJ
Fat

22.1 g

Saturated fatty acids

9.4 g

Monounsaturated fatty acids

0.0 g

Polyunsaturated fatty acids

0.0 g

Carbohydrates

40.7 g

Protein

8.3 g

Salt

0.3 g
---
Weitere leckere Cookiesorten