Müslimonster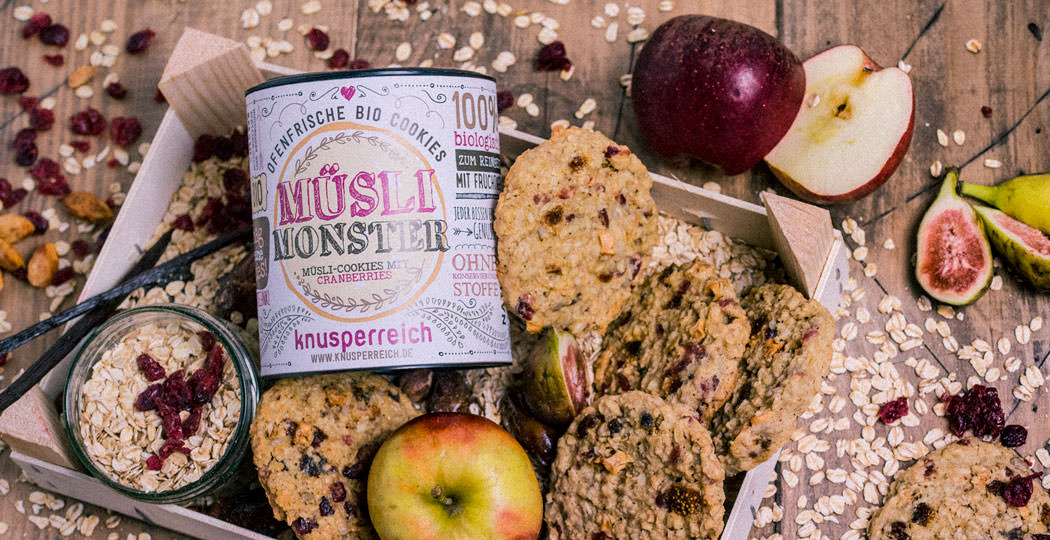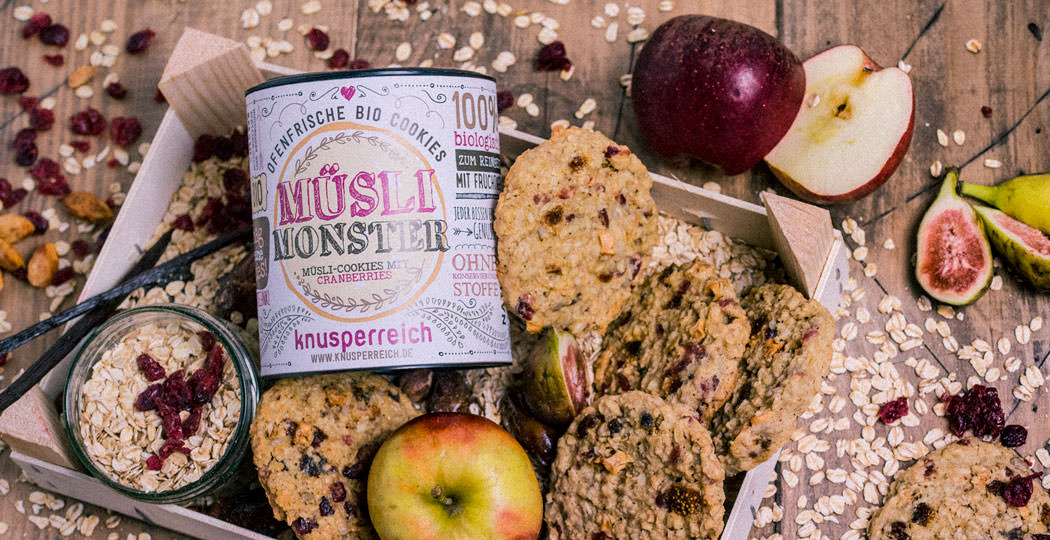 This muesli-cranberry cookie has it all! Organic fruit muesli, almonds and tart cranberries make this aromatic creation Cookie Monster's favorite dish. Now that Sid (yes, that's his real name!) teaches children about a more conscious diet, he likes his favorite food to be healthy and tasty. This cookie is just perfect for all those folks who have had just about enough of all those boring cereal bars. So stock up, because our cookies are om nom nom nom! Me want cookie!
can of 6
Cookies
à 50 g
(total weight 300 g, € 4.43 / 100 g)
See the list of ingredients
Ingredients in this product:
oats*
,
butter*
,
whole egg*
, dried cranberries * (sweetened with apple syrup, seperating agent: sunflower kernels oil), raw cane sugar*,
spelt flour*
,
almonds*
, dried apricots* (seperating agent: rice flour), dried figs*, honey*, sunflower seeds*, dried apples*, salt, cinnamon*, bourbon vanilla*.
*certified organic
See allergens
Eggs, Milk, Almonds (Nuts), Gluten (Oats, Spelt)
Not suitable for allergy sufferers.
See nutrition facts
Nutrition facts per 100 g (average)
Calories 398.9 kcal / 1,670.1 kJ
Fat

20.2 g

Saturated fatty acids

9.1 g

Monounsaturated fatty acids

0.2 g

Polyunsaturated fatty acids

0.6 g

Carbohydrates

44.5 g

Protein

7.6 g

Salt

0.3 g
---
Weitere leckere Cookiesorten