The new vaccine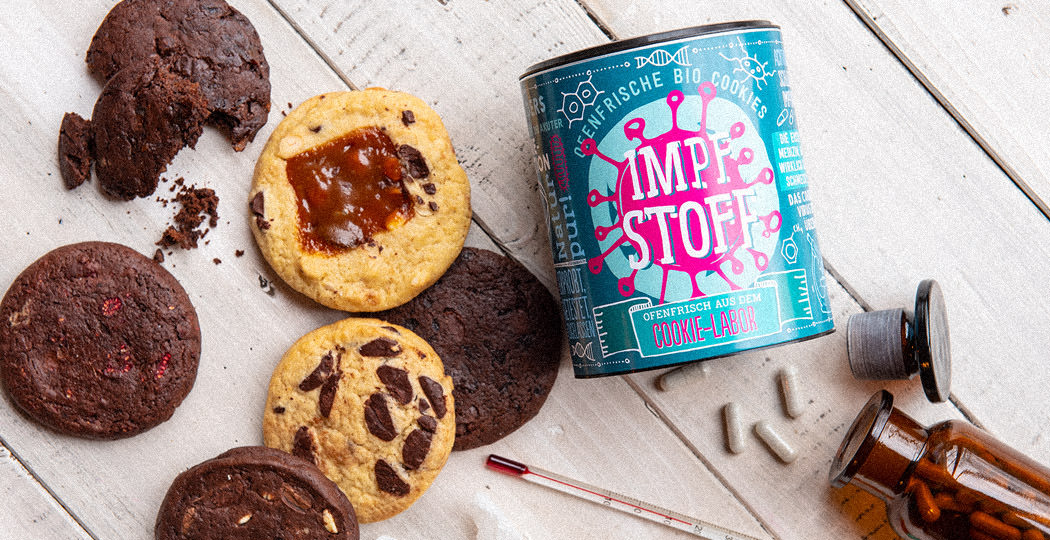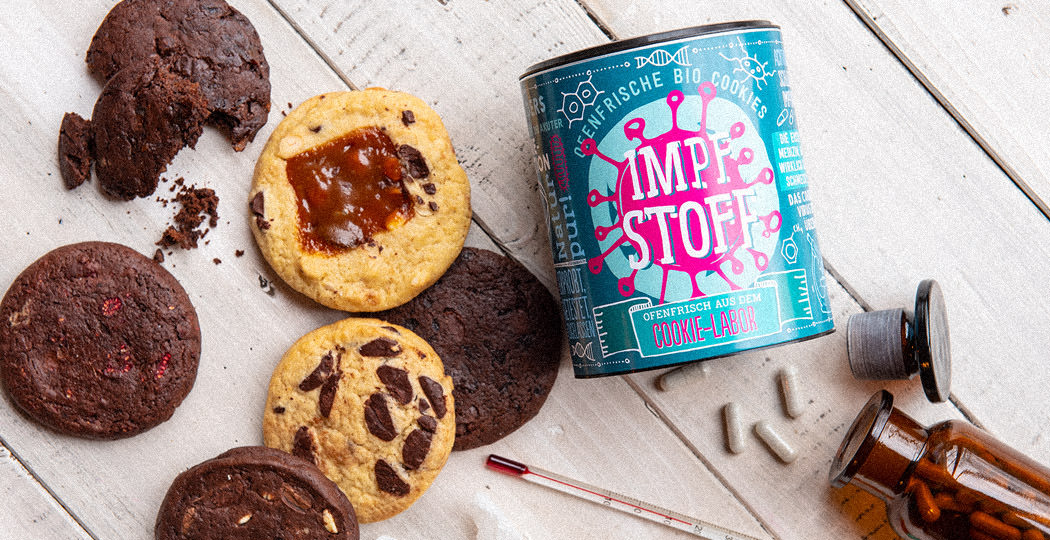 The new vaccine
Today is a monumental day in the history of organic cookie research: for weeks now, laboratories around the world have been feverishly trying to develop a vaccine for the common cookie virus, currently running rampant everywhere, and to no avail… that is, until this very moment! We are particularly proud to be able to announce our big breakthrough! With our completely new vaccine, you can inoculate yourself against the cookie virus at home - without coming into physical contact with anyone and without any medical assistance. Our special vaccination is administered orally and takes effect immediately. It not only protects against the nasty cookie virus (which has spread worldwide through the uncontrolled consumption of low-quality industrial biscuits), but also against sudden snacking attacks and a latent, listless lack of pleasure. It has also been officially approved (by us) as a mood enhancer and prevents the cookie blues caused by long-term quarantine. Warning: Due to expected demand, hoarding is not discouraged - secure your personal dose of the vaccine now!
See the list of ingredients
Ingredients in this product:
raw cane sugar*,
spelt flour*
,
butter*
,
wheat flour*
,
whole egg*
, dark couverture cocoa 65 % minimum* (cocoa kernels, sugar, cocoa butter, bourbon vanilla), cocoa powder*, candied ginger* (ginger, sugar), agave sirup*,
peanut kernels*
,
couverture white cocoa 36 % minimum*
(sugar, cocoa butter,
whole milk powder,
emulsifier: sunflower lecithin, vanilla extract),
milk couverture cocoa 40 % minimum*
(cane sugar,
whole milk powder
, cocoa kernels, cocoa butter), dark couverture cocoa minimum 70%* (cocao mass, raw cane sugar, cacao butter), raspberries * (freeze-dried),
cream*
, coffee*, baking soda* (extract from concentrated grapejuice, corn flour, sodium carbonate), salt, cocoa butter*, bourbon vanilla*.
*certified organic
See allergens
Eggs, Milk, Gluten (Wheat, Spelt), Peanuts (Legumes)
Not suitable for allergy sufferers.
See nutrition facts
Nutrition facts per 100 g (average)
Calories 422.6 kcal / 1,769.5 kJ
Fat

20.3 g

Saturated fatty acids

11.8 g

Carbohydrates

50.5 g

Protein

6.8 g

Salt

0.3 g
---
Weitere leckere Cookiesorten